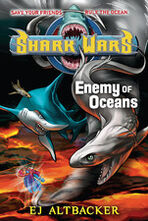 This page on sneak peeks featuring new up coming books and events! This can be spoiling to people who have not read all of the books. It features new books usually a few months ahead of time, and all news will be on the following topics. Events, new books, updates on the game, other.
-The shark wars game has recently been updated!
-The fifth book in the series, Enemy of Oceans is coming out this fall-winter.
-The fourth book is coming out early summer and is now available on nook, kindle, and other ebooks. It should be coming into stores soon.