Mari is a female thresher shark who as a member of
Rogue Shiver
served some great purposes. She was the one who kept Rogue Shiver together even when all of her friends (to be specific, mainly
Gray
,
Barkley
, and
Striiker
) bickered with one another.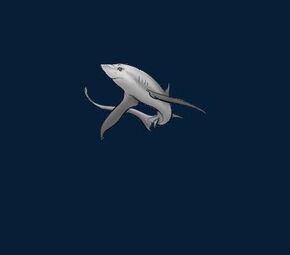 Species: Thresher shark (no known specific thresher)
Gender: Female
Status: deceased
Fate: disentegrated by a bolt from Hokku
In the Shark Wars ARC (Advanced Reader's Copy), Mari's name was Finn, which is why Mari is called 'Finn' sometimes in the book. 
Although they are usually enemies, Mari and Velenka sometimes put away their differences and talk to each other about their troubles.