Kendra is a white tip reef shark that serves in AuzyAuzy Shiver. She used to be Lochlan's first in line, but now she is the strong leader of AuzyAuzy. Soon after this Kendra during Grays meeting with Drinnok she attacked Fifth shiver secretly which led Drinnok to believe Gray and riptide united were against them.
Species: A White tip
Gender: Genderly confused, though she is actually female.
Status: Dead
Fate: to swim the Sparkle Blue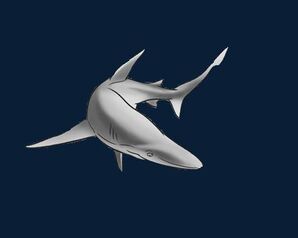 Kendra, Lochlan, Xander, and Jaunt met Gray and Takiza at the Atlantean ruins. She promises with Lochlan and Jaunt to fight Finnivus.
In Into the Abyss, Kendra becomes leader of AuzyAuzy Shiver after the death of King Lochlan. Se does not truly appear in the book.
In Kingdom of the Deep, Kendra is seen in a conflict with Hammer Shiver over who hunted and gained control of the firewaters, in which Aquasidor Gray has to settle. Kendra does not appear after the conflict is solved.
In Enemy of the Oceans, Kendra orders AuzyAuzy Shiver to attack Drinnok, and Riptide Shiver and Fifth Shiver go to war until Barkley achieves peace with Drinnok. Kendra is later seen helping Riptide United to defend themselves against Grimkahn and Hokuu's forces. The Tuna Run and rip currents are used to their advantage.
Kendra and Silversun lead the injured and unfit forces of AuzyAuzy, Hammer, and Vortex Shiver into battle in which she and Silversun are killed by the Horde.