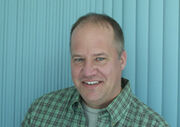 Info from www.sharkwarsseries.com
EJ Altbacker is a screenwriter whose credits include work on various television programs including Static Shock, Ben 10, Spider-Man, Mucha Lucha, and the upcoming Green Lantern:The Animated Series. He holds an MFA in screenwriting from the American Film Institute, and an undergraduate degree in marketing from the University of Notre Dame.
To learn more about him, go to www.sharkwarsseries.com.